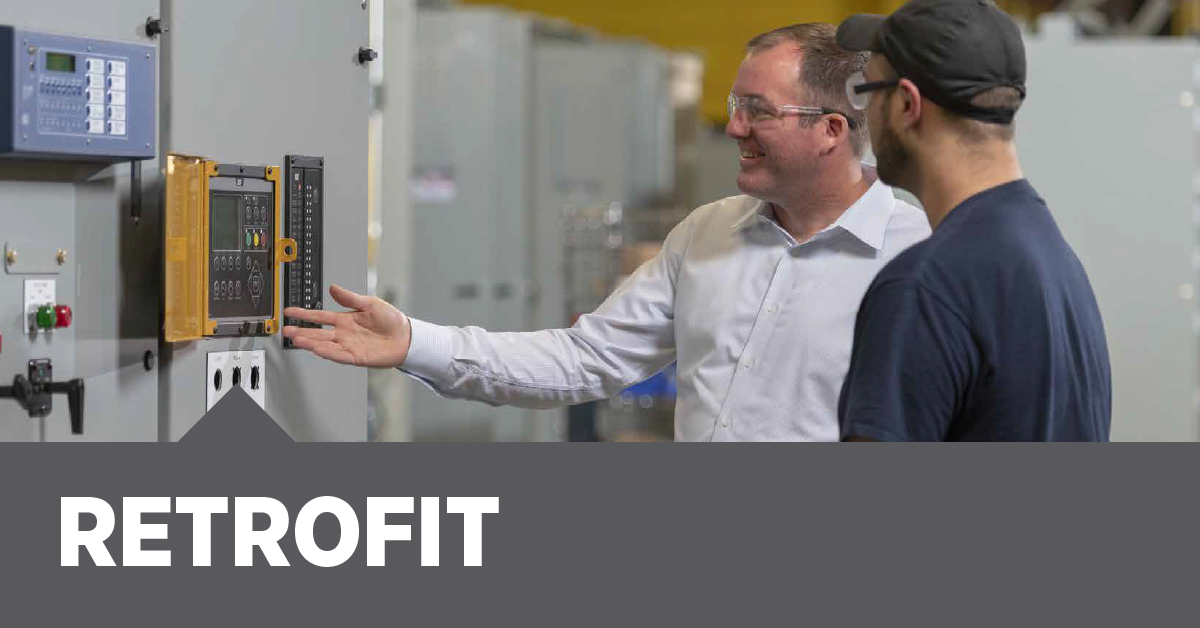 Energy production systems are constantly evolving due to technological innovations and changes in regulations and business needs.
Critical equipment such as control and synchronization panels and systems, switches/transfer switches, switchgear and other electrical control devices can become obsolete after a few years. To prevent costly breakdowns and avoid disruptions to daily operations, it is important to conduct regular inspections to make sure your electrical equipment is safe and up to date.
Case study: a Canadian corporation
A large company recently contacted Toromont Cat Power Systems to help identify the root cause of emergency power control system failures and problems at its Data Center in Southern Ontario.
To solve these problems, the specialists at Toromont Cat Power Systems offered the customer a free inspection and evaluation, which would be conducted without having any impact on their operations. The specialists' analysis revealed that some of the components of the data centre's emergency power control system were obsolete. Because their expiration date had long passed, some of the components were damaged and could consequently no longer operate as expected.
Toromont's experts therefore recommended updating these components with a Toromont Energy Control System (TECS) based on a Schneider 1000 Programmable Logic Controller (PLC). Updating elements of an electric system is called a retrofit.
To minimize the impact on customer operations during the installation of these new components, Toromont provided a rental system that would do the job while the customer's equipment was being updated. Toromont's team of Power Systems experts custom-fabricated and installed new trays and control panels for the customer's electrical system. The updates were completed in two weeks. Toromont's technical team performed the final tests with the customer and closed the project in December 2021.
A free inspection to avoid problems
The regular inspection of any system (Cat or non-Cat) that is over 10 years old is highly recommended in order to prevent possible failures or problems due to obsolete equipment. This free, visual inspection makes it possible to identify obsolete components without causing any disruptions to an installation's operations. It is also the first step in updating, modifying, or adding equipment, or adding new features that match a business' current or future needs.
Retrofit, or the art of improving operations without interrupting them
To ensure the smooth functioning of your facilities and operations, Toromont Power Systems can provide reliable temporary solutions for the entire duration of the upgrade (retrofit) work. Our specialists can also offer and install remote monitoring solutions such as Cat Connect on all types of equipment.
Equipment updates can be performed on any old or new Cat or non-Cat system, in which new capacities (such as remote monitoring or making changes to comply with the Technical Standards and Safety Authority (TSSA)) must be added. There are many benefits to performing an update:
Lower operating and maintenance costs

Guaranteed annual capital expenditure, which justifies an update rather than the installation of a new system
Improved overall reliability (safety of personnel and data communications)
Update of hazardous equipment that will fail inspections or is not up to code
Conclusion
It is strongly recommended that you inspect your equipment on a regular basis to make sure it is in good working order and is compliant to current standards. An inspection will also give you the opportunity to install any needed system improvements.
Watch the recording of the Let's Talk Energy webinar on Retrofit held on April 21st.