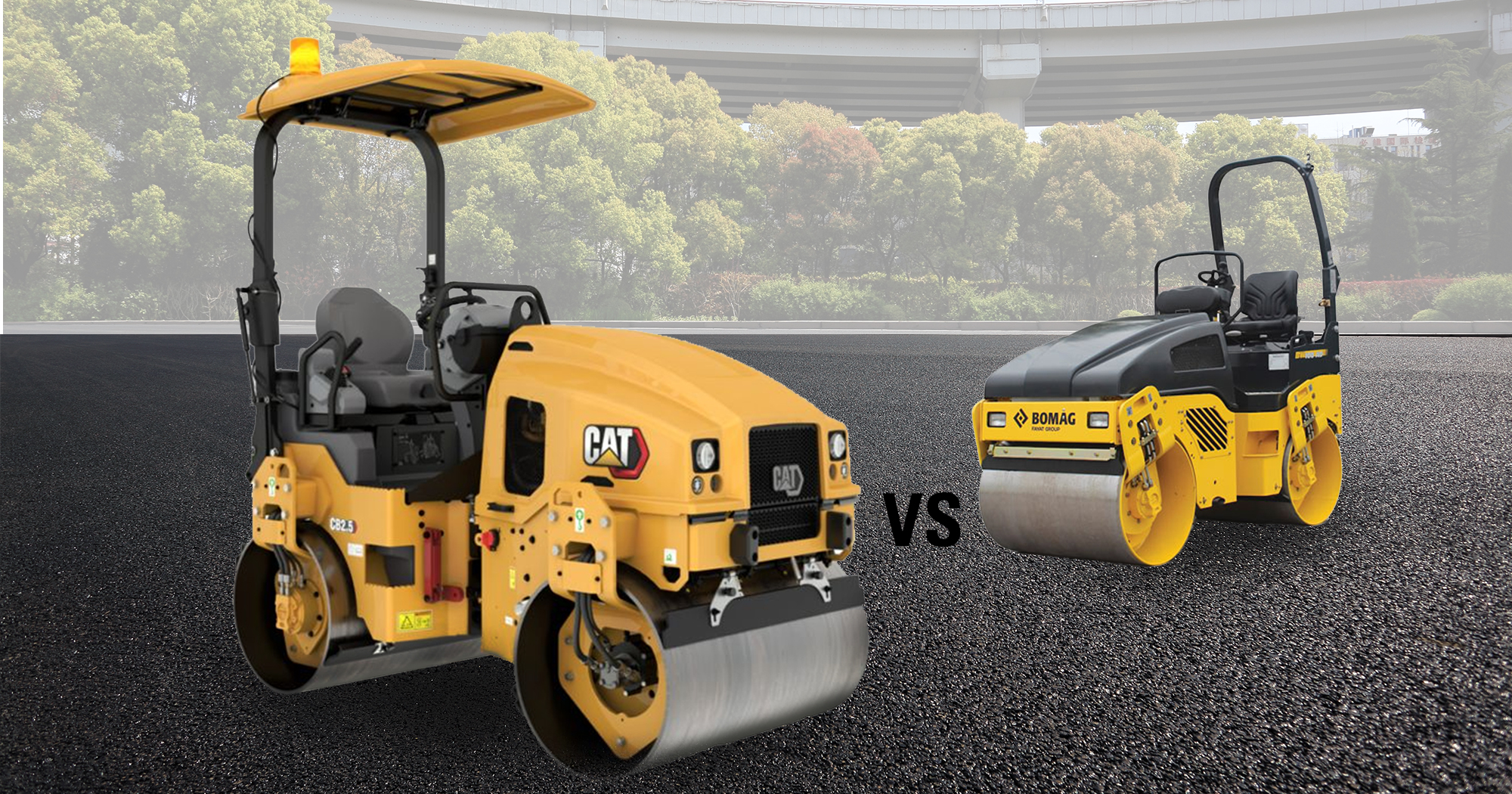 The new line of Cat Utility Compactors includes the GC models, which are versatile and cost-effective alternatives to our standard models.
But how do they stand up to other utility compactors on the market?
To find out, we compared the Cat CB2.5 GC to another utilitary compactor, the Bomag BW100AD-5.
We focused on three key metrics: safety, productivity, and serviceability.
Safety
At Caterpillar, safety comes first, which is why the CB2.5 GC has operator presence sensors that stop the machine whenever the operator is out of the seat while Bomag's seat switch only provides a warning, which means the machine is still running whenever operators leave the seat.
The CB2.5 GC also has bright orange seat belts, offering greater operator visibility than Bomag's standard black seat belts. Plus our compactor has slip resistant steps and sturdy struts to keep the engine hood propped open.
Productivity
The Cat CB2.5GC includes a Cat C1.7T engine with a traveling speed of 9.4 KPH compared to the Bomag BW100AD-5's speed of 9 KPH.
Always at the forefront of technology, Cat has equipped the CB2.5 GC with exclusive power management software to prevent overheating, a feature Biomag's utility compactor doesn't have.
Operators on the CB2.5 GC can also use a handy spray test mode to check and adjust models, along with multiple ballast options to increase compaction. Bomag's compactor offers neither.
Serviceability
With a 500 hour engine oil change interval, serviceability is another area where the CB2.5 GC model shines. Bomag's model has an interval of 250 hours, which means more time being serviced and less time on the job.
Basic troubleshooting on the CB2.5 GC can be done remotely using Cat Electronic Tech (ET), while Bomag's model needs a mechanic on-site to do the same kind of assessments.
Our model also has an auto-engine shutdown feature to reduce hours and fuel burn, another perk that Bomag's utility compactors don't have.
And unlike Bomag's batteries, which are rigidly mounted inside an engine compartment with limited ventilation, our batteries are isolated and in a ventilated compartment, so they stay stronger longer.
The Verdict
When it comes to safety, productivity and serviceability, the Cat CB2.5 GC utility compactor paves over the competition.