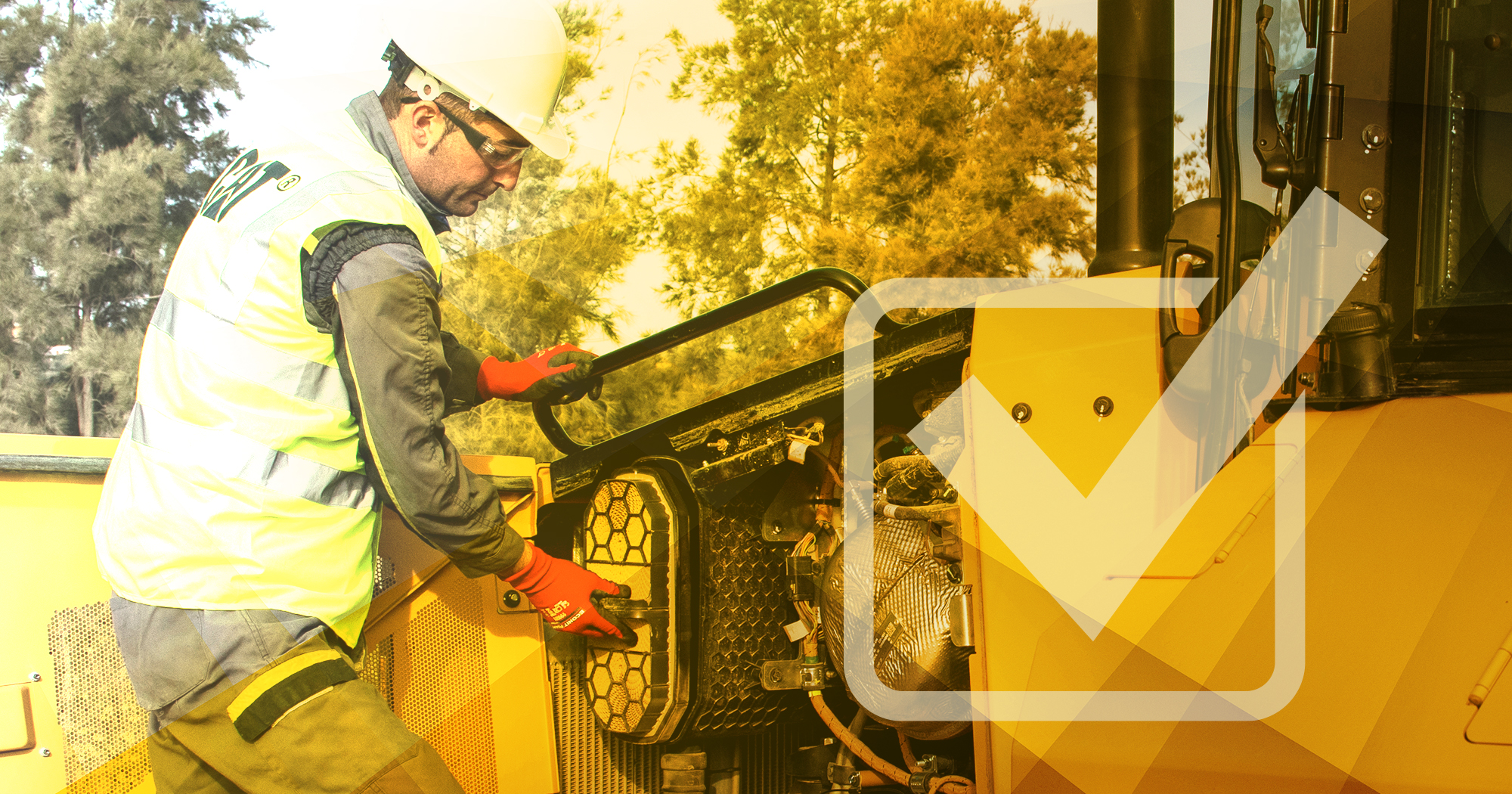 Proper and efficient maintenance is all about regularity and commitment. While thorough professional inspections and upkeep are definitely recommended for colder and hotter seasons, daily maintenance is equally important and should never be neglected.
Creating a simple routine verification will allow:
Stay productive,
Be safe,
Avoid costly downtime and equally costly delays.
We suggest managing a regular time slot for every piece of equipment to ensure proper working order, with simple steps.
What are the key elements to verify on your Cat excavators, dozers, wheel loaders or other Cat equipment?
1. Tire pressure on your Cat machine
Check your tire pressure. Having the right pressure means better traction which leads to higher productivity. Correct Air Pressure by application is critical … it's NOT the same for all. Air Pressure should be adapted to the task, weather and terrain. For instance, if you are working a wheel loader in loose sand, then consider a decrease of -5 PSI (-35 kPa) in front and rear tires for the best traction. Depending on the application you will use your machine for, speak to your rep to ensure you have the right pressure setting.
2. Track tension
Make sure your excavator and dozer tracks are adjusted properly: Not too loose or too tight, follow the guidelines in the Operation & Maintenance Manual for proper track tension.
3. Clean tracks
Shovel to remove dirt, debris and mud from tracks. It may look like it can wait but when colder times arrive the dirt and sand on the tracks could stick then freeze. And then, this simple task will become much more complicated!
4. Lights
Check your machine lights daily the way you check your personal vehicle lights. Ensuring your lights are clean and in working order will help for night shifts, or when it's foggy outside. Most of the machines now come with LED lights designed to last longer, but we recommend that you check them daily nonetheless.
5. Back-up alarm
Test daily your back-up alarm to avoid injuries, accidents and costly repairs. The only way to 'test' the alarm would be to engage reverse which will activate it. This can be done without starting the engine, the key switch just needs to be in the on position.
6. For greater visibility, clean the windows
Simply wash windows with paper and cleaning products to ensure maximum visibility.
While these steps look obvious to any operator, it is easy to overlook them after or before a long shift. We suggest queuing this verification to your morning coffee or your work break to create a regular routine.
On top of your daily maintenance, we highly recommend on completing a proper inspection. Contact us and have our Cat certified technicians inspect your equipment.