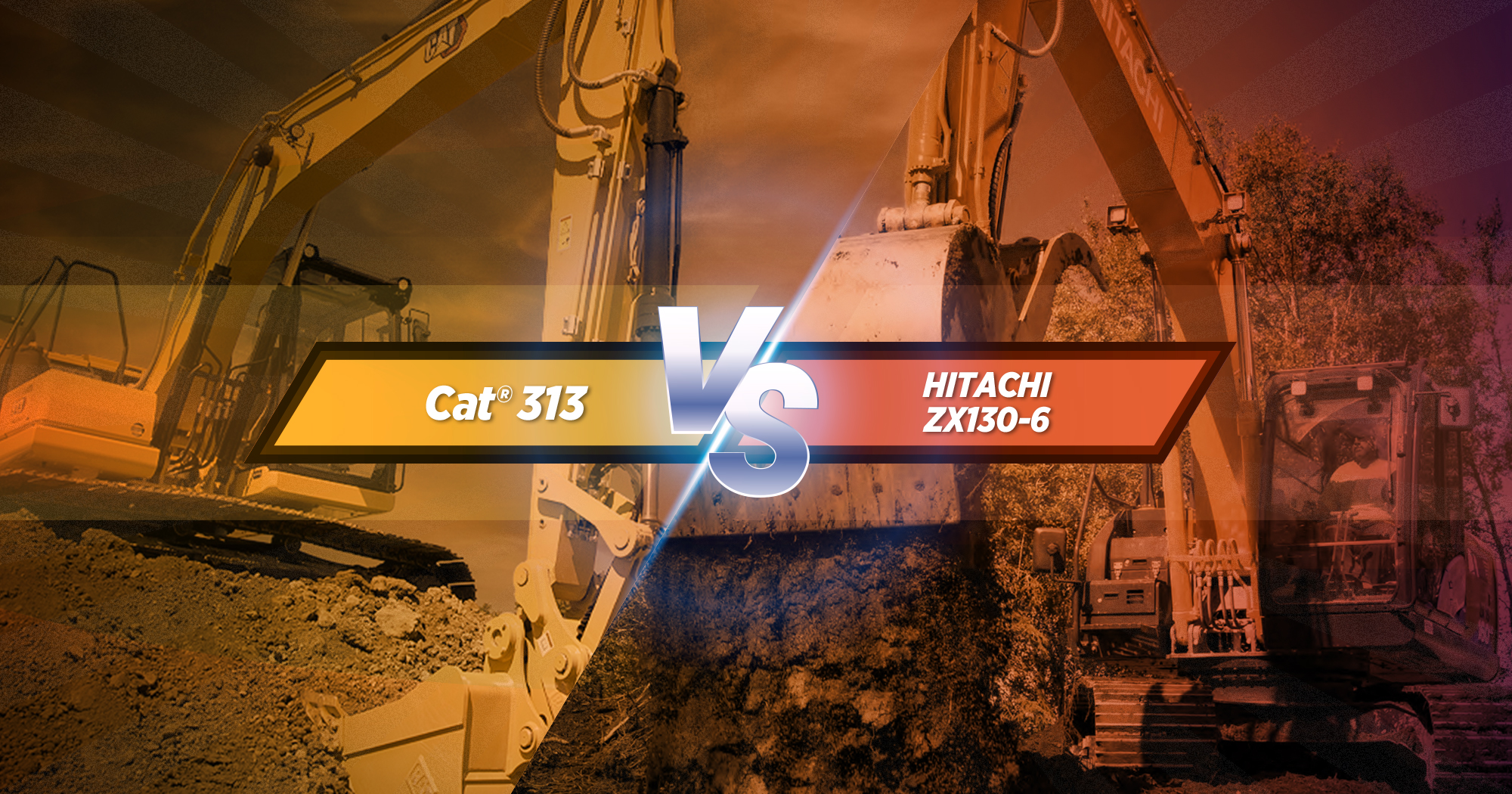 We wanted to see how the Cat® 313 Excavator matches up to the Hitachi ZX130-6. We focused on three key areas: efficiency, performance, and serviceability.
Efficiency and On-Board Tech:
The Cat 313 Excavator comes outfitted with a suite of onboard tech to make work more efficient. For example, Cat Payload on-the-go weighing system increases loading efficiency, while Cat Grade with 2D leverages onboard processors and sensors to provide real-time guidance on distance to grade without guesswork. Hitachi's excavator comes with neither.
In the 313, max digging forces are available full time, in all modes, which means no additional operator input is needed. Hitachi's excavator's max digging forces are only available with the Power Boost button, and it's limited to 8 seconds.
Finally, in the 313, the integrated Tool Control auxiliary circuit is available to maximize tool performance and uptime. Hitachi's auxiliary circuit, meanwhile, is not fully integrated, which can require some manual hydraulic adjustments and lower efficiency.
Cat comes out ahead on efficiency and on-board tech.
Performance:
When it comes to excavators, engine horsepower and hydraulic flow are key performance metrics. How do the two models stack up?
The Cat 313 has 12% more net engine horsepower, along with 16% maximum hydraulic flow than Hitachi's model. More power = better performance on the job site.
The Cat excavator also has two more track links per side than Hitachi, with a longer undercarriage that increases flotation, stability, and lift. And while size doesn't always matter, the Cat 313 weighs over 2,700 lbs more than Hitachi's model. That means more stability on the job site.
Advantage: Cat
Safety and Serviceability:
The best ability is availability, so while performance and efficiency are important, they won't matter if your machine can't stay healthy and ready for work.
So which machine has better serviceability and more safety features?
In Cat excavators, 2D E-fence technology comes standard. It lets operators define boundaries through their monitor, leading to safer work and fewer accidents. That technology isn't available in Hitachi's model. Speaking of safety, the 313 has better right-side visibility than its opponent, with standard cameras on the right side and rear and an option for a 360-degree four camera system. In Hitachi's excavator, only a rear camera comes standard.
Engine oil level checks on the 313 can be performed at the ground level, while Hitachi's excavator requires an inconvenient trip to the top deck to perform their engine oil level checks.
The 313 offers a customizable joystick to match operator preferences. Hitachi doesn't.
Looks like the Cat 313 is easier to operate, service, and has better safety features.
The Verdict:
When it comes to efficiency, performance, and serviceability, the Cat® 313 Excavator wins the day.
Cat 313: In stock!