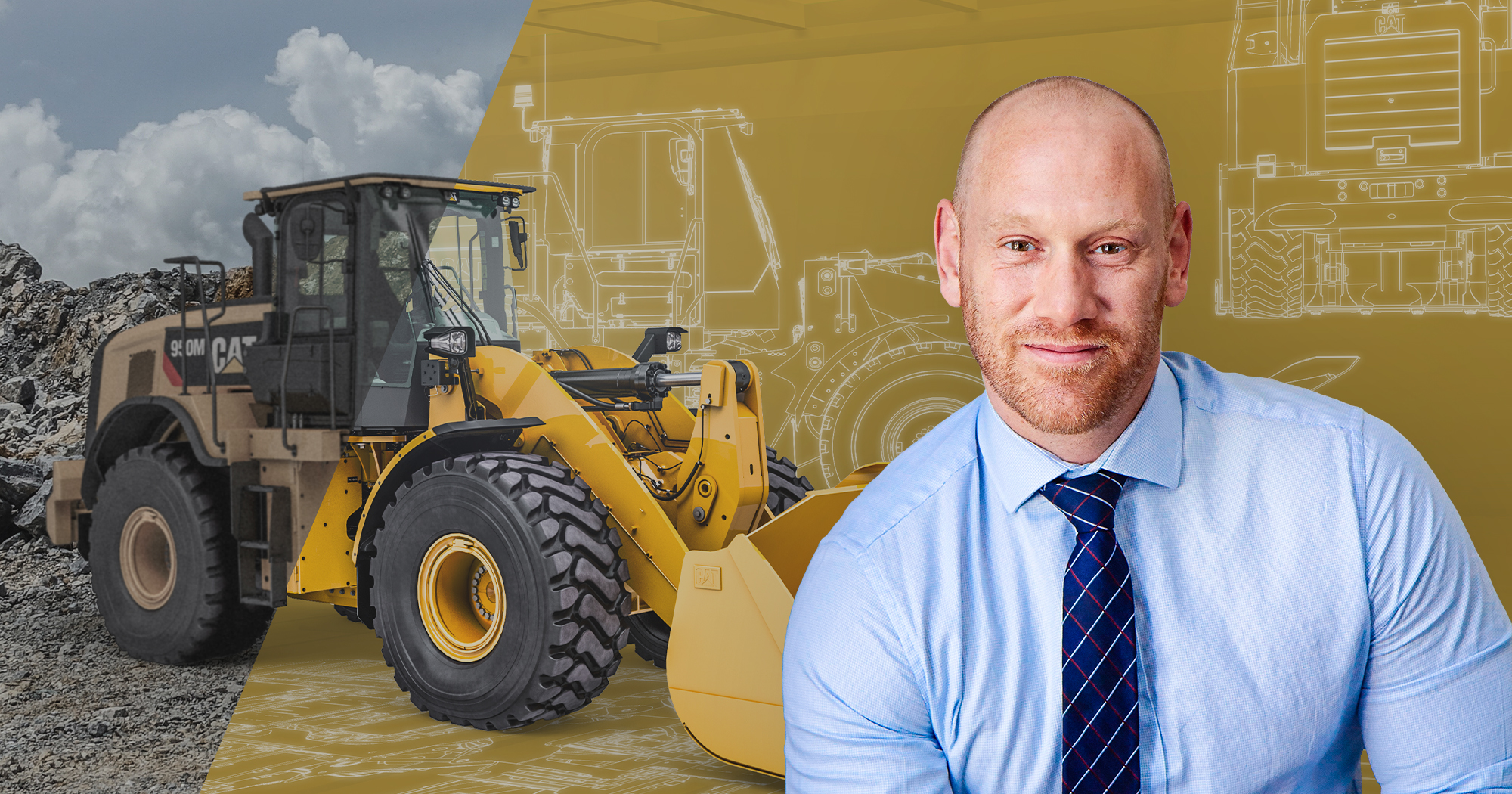 When a piece of equipment looks like it's nearing the end of its useful life, you may wonder whether to repair it or replace it altogether. But between fixing or buying a new machine, there's another option that's becoming standard in the industry: rebuild. Our expert Andrew Booth outlines the benefits of this course of action and the factors to consider before you decide.
Andrew Booth, a certified technician in heavy equipment who joined Toromont in 2010, finds rebuilding equipment to be the most rewarding part of his career. For him, giving a machine a second life is an economical, eco-friendly and effective solution. That's why this year he didn't waste a moment's time before taking on the role of machine rebuild specialist. He hopes to help more customers get the most from their investment while contributing to Toromont's evolution, which has made great strides in this field in recent years.
Four reasons to rebuild a machine
Maximize the value of your initial investment
For Andrew Booth, the greatest benefit of rebuilding a machine is that you can get a high-performance piece of equipment for a fraction of the cost to replace it.
Estimated savings range from 40 to 70%, depending on the type of rebuild, whether it involves a complete rebuild, a power-train restoration or the replacement of certain parts.
Also, machines that have undergone a Cat Certified Rebuild typically have a significantly higher resale value as they are rebuilt to Caterpillar's stringent standards, and are closely monitored following the rebuild.
Get a machine that's "like new"
A rebuild lets you keep a machine you love for much longer, while giving it back its original performance. And like all new equipment, a rebuilt machine also qualifies for a financing program and a maintenance contract. Another awesome benefit is that it comes with a new warranty on the rebuilt parts. There's also the option of an extended warranty, which varies depending on your needs.
Boost productivity with the latest technologies
A rebuild doesn't just involve reconstructing the parts. It also delivers the latest updates and improvements to the machine. "All certified rebuilds include critical technical updates that improve reliability over and above the original," Andrew says.
This means you benefit from features and technologies that were not available when you bought your machine. It's a cost-effective way to improve productivity and avoid additional down time, since the machine will already be out of service for the rebuild.
Protect the planet
"Disposing of a machine after a lifetime of service is extremely wasteful," says Andrew. "We owe our customers and the construction and mining industries a more sustainable solution."
Rebuilding used machines involves reconstructing most major parts, or replacing minor parts with remanufactured ones. The finished product is a new version of the machine that functions and handles like new, while reducing the use of raw materials and producing less waste. "Without this, imagine how many pieces of used equipment would be left to rust," Andrew adds.
Four factors to consider
Financial situation
The decision to rebuild a machine is tied directly to the profitability of your operation. Most often the priority is to save as much money as possible in the short term, without compromising safety or quality. So you need to compare the estimated cost of rebuilding versus the cost of buying a new machine.
Depending on the life cycle of the parts, a rebuild may be a wise choice. Often it is less expensive than a new purchase and entails a shorter-term financial commitment. Depreciation and taxes on a rebuilt machine are also lower. On top of that, you give the equipment many more years of life.
Your decision may also vary depending on the machine's life, the availability of a replacement, and its value before rebuilding it. "At Toromont," says our expert Andrew, "we believe the most reasonable and cost-effective rebuild is always the best option."
Planning
Obviously, a machine rebuild doesn't happen overnight. In general, it takes 6 to 8 months to completely rebuild a machine. This means you need to think ahead about financing the project and planning the ideal down time. Our advisors can also offer replacement solutions during the rebuild period, such as leasing or buying used equipment.
Choice of specialist
Rebuilding a machine, power train, engine, hydraulic system or key component is a complex process that requires skilled professionals, specialized equipment, stringent quality control and access to the latest technical updates. Only a member of the global Cat dealer network such as Toromont can perform a Cat Certified Rebuild, which ensures the equipment remains reliable for many years to come.
"Over the past few years, Toromont has been steadily improving all aspects of the rebuild process, from providing a quick quote to post-rebuild monitoring," says Andrew. We've corrected common problems by conducting thorough inspections and using the best Cat certified components. We have also introduced new programs, such as the one for the hydraulic system. This type of rebuild allows us to reconstruct the hydraulic components of standard and hydraulic excavators."
Types of rebuild
Taking the specific needs and goals of our customers into account, Toromont offers a wide range of rebuild solutions, from completely reconstructing the Cat machine to rebuilding specific components.
Cat Certified Rebuild. The entire machine, including the cab, is rebuilt to Cat CCR standards. It looks and smells like new, and runs like new. It even has a new serial number.
Replacement or reconditioning of 7,000 parts
More than 350 tests and inspections
Like-new machine warranty
Work done by professionals
Genuine original parts
Cat Certified Power Train Rebuild (CPT). The radiator, engine, transmission, torque converter, drive shafts, differentials and reduction gears are reconstructed to Cat CCR standards. Many parts are replaced or rebuilt, including oil lines, coolant hoses, control modules and seals.
Replacement or reconditioning of 3,000 parts
More than 200 tests and inspections
Certified Rebuild new parts warranty and option to extend power train coverage
Work done by professionals
Cat Certified Power Train Plus Rebuild (CPT+). This program lets you add the hydraulic and/or electrical system to the basic CPT solution.
Replacement or reconditioning of 3,000 parts
More than 200 tests and inspections
Multiple extended-warranty options
Work done by professionals
Cat Certified Machine Component Rebuild (CMCR). When you don't need a complete rebuild of the machine or power train, this program lets you upgrade specific components, such as the engine, torque, transmission or axles, with the latest technical updates.
Reconstruction according to Cat CCR standards
Multiple extended-warranty options
Work done by professionals
How to get the most from your equipment
"Choosing Cat equipment means making a wise investment that needs to be protected with close monitoring and careful maintenance," Andrew says. "By monitoring a machine's performance, we can detect and repair any minor issue before it becomes a catastrophic breakdown. For example, a worn hydraulic pump can end up failing and contaminating the entire hydraulic system. This could have been avoided by taking fluid samples at regular intervals."
While a good maintenance program helps you reduce down time, it also extends the machine's life and makes your decision easier when it reaches the end of its life. Knowing the condition of parts and systems will help you decide if the machine needs a complete or partial rebuild.
To learn more about our rebuild programs,
contact your Toromont representative or visit our website