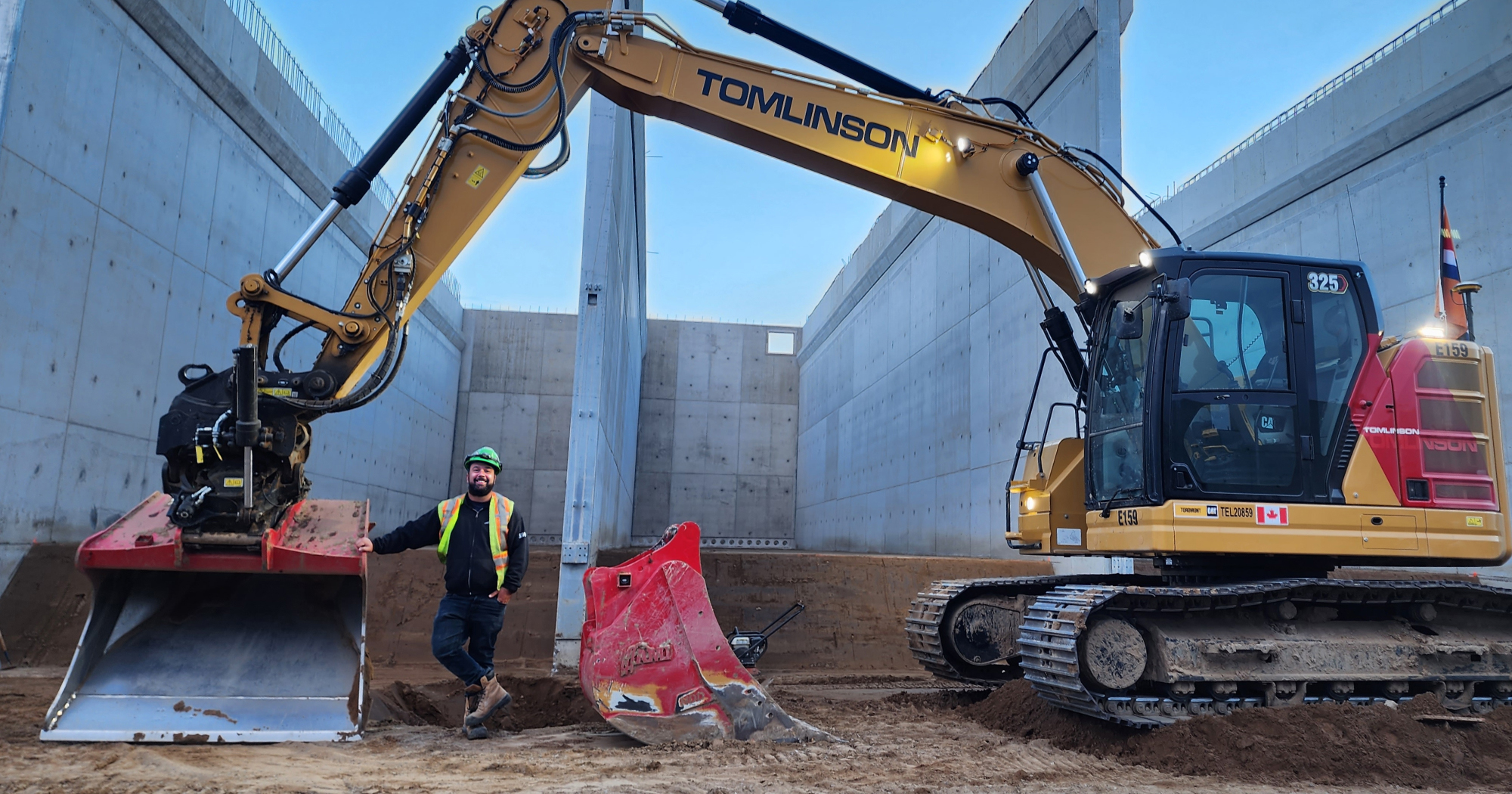 This month we're featuring Matt Baggs of Ottawa's Tomlinson Group, who won our excavator contest with a great photo of a Cat 325.
We had the chance to talk with him and learn more about his story and why he loves Cat machines, especially his Cat 325!
Matt's Journey
Like a lot of operators, Matt always had an aptitude for heavy machinery. "My journey as an operator started when I was 16," he says, "playing with a backhoe at a friend's farm." An athlete in high school, Matt was recovering from a sports injury and decided to enroll in a government-funded equipment operator program in Guelph, Ontario, as a way to preserve his body.
From there, he had stops in Ottawa, where he built playgrounds for the city, Grand Prairie, Alberta, where he expanded his knowledge and worked on various industrial projects, before returning home to begin his career with Tomlinson.
Over his 11-year career as an operator, Matt's been involved in some big projects. He helped build the Amazon fulfillment center in Ottawa. At 2.8 million square feet, it's the largest and most technically advanced building of its kind in Canada, as well as the largest building in Ottawa. And for the last seven months, he's been working on the largest mushroom facility in North America, the most advanced and automated facility of its kind in the world.
The Cat 325 Excavator
While Matt has experience on everything from dozers to skid steers, he spends most of his time on Cat excavators, machines he loves for their versatility and comfort. "And the ability for the operator to program joystick buttons and controls of the machine makes them stand out over the other brands." He's particularly fond of the Cat 325, the star of the stunning photo he submitted in August. "It doesn't matter if you're working downtown in a tight area or loading a rock truck in a field, this machine can do it," Matt says of the 325. "The ratio between power and size has been something I have never experienced before."
Fuel efficiency is another feature Matt points to: "Next Gens [like the 325] in general are noticeably more fuel efficient than previous models like the F series or E series. I can easily do 20 hours of work before needing to be refueled."
What about maintenance? "Being able to perform my fluid checks from the ground makes my morning easy and reduces my chances of falling off the machine," Matt explains. Another advantage: "The machine is also equipped with an auto greaser that not only greases the pins but greases the Tiltrotator as well."
Onboard Technology
In terms of the on-board tech that comes standard on Cat next-gen excavators, Matt's a fan of the Payload feature. "There is no guessing anymore if the truck you're loading is full or not." As Matt points out, an overloaded truck could see hefty fines, premature wear, and could cause an accident. Meanwhile, an under loaded truck, as he puts it, "chews into your production goals, so it's nice knowing exactly when to honk your horn to get that truck rolling."
While some operators might shy away from learning to use Cat onboard tech, Matt argues that the benefits are more than worth the short time it takes to learn how to use them: "I like to describe Next Gen machines as a tool chest rather than an individual tool," he says. "There are many tools in this chest and you might not need them all the time, but having them at your fingertips will only make your life easier and make you more efficient."
Watch our next-gen technology videos on Cat excavators
Matt's Advice for New Operators
Does Matt have any advice for people thinking of becoming an operator? "The industry is constantly changing," he notes, "so your willingness to adapt and learn will allow you to thrive as an operator. From the day you start to the day you retire you will be learning something new." Combined with a willingness to learn is a willingness to listen.
Matt isn't thinking of retiring anytime soon. But after seeing his stellar photography skills, we think he might enjoy a second career as a photographer after he decides to step out of the cab.
Interested to view our selection of Cat next-gen excavators?