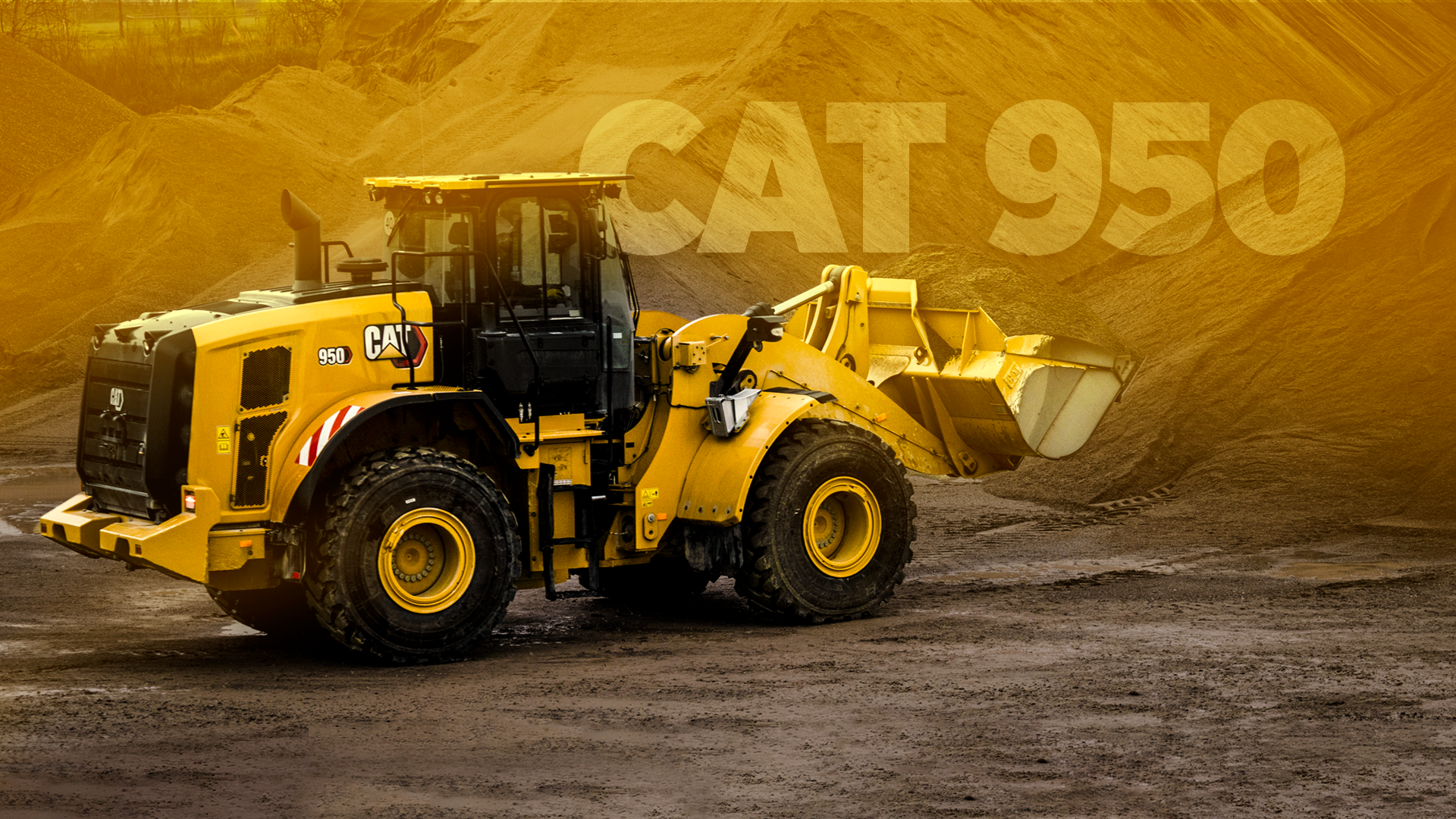 Medium Wheel Loaders: From the 944 to today
The history of Cat medium wheel loaders goes all the way back to 1959 and the Cat model 944. It was the company's first medium wheel loader, though it was called a 'wheel-type traxcavator' at the time.
These machines had rigid frames, no cabs, and rear wheel steering. The 944 came with a two-cubic-yard (1.5-cubic-metre) bucket, with either 105-horsepower (78kW) gas or diesel engine. It wasn't until 1965 that Cat changed the name of these versatile machines to 'medium wheel loaders.'
In the last 60 years, Caterpillar has been at the forefront of innovation in areas like safety, comfort, fuel efficiency, performance, technology and more. Today, they offer the largest selection of medium wheel loaders – 12 models total, including the newly redesigned Cat 950.
Efficiency Meets Comfort
The Cat 950 has a powerful 249 HP engine designed to stand up to the toughest applications. Its 42,461 lb operating weight gives it the strong base it needs to handle heavy loads, while it has a robust bucket capacity of 3.3-13.0 yd³.
The 950 also offers an improved cab with adjustable seat and suspension, sound suppression, and next-gen ride control, all designed for maximum operator comfort and efficiency. Joystick steering, now available on all Performance and XE medium wheel loaders, improves precision and reduces arm fatigue, while rear cameras and an in-cab dashboard and touch display means operators can maximize productivity and stay safe on the job.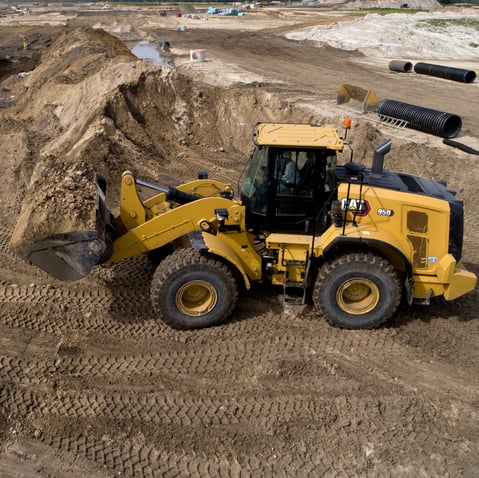 Smart Machine for More Productivity
When it comes to leveraging the latest on-board tech, Cat leads the way. The 950 is no exception.
Its exclusive Cat Monitoring System checks machine health regularly, while Product Link, a satellite-based system, gives operators two-way information exchange between onboard machine systems and the Caterpillar Network Operations Center.
New features like Autodig lets the operator fully automate bucket loading to improve fill factors and loading time, while the Auto Set Tires function promotes proper loading technique, significantly reducing tire slip and tire wear.
Finally, Cat Payload with Assist provides accurate weighing of the bucket payloads, with data displayed in real time to improve productivity and loading accuracy with manual tip-off.
Lower Maintenance and Fuel Costs
The 950 is designed to offer low cost per hour, without sacrificing productivity and power.
The 950's power trains come standard with a lock-up clutch transmission, matching the engine power to increase fuel efficiency, while the 5-speed transmission and lock-up clutch torque converter, power trains deliver smooth shifting, fast acceleration, and speed on grade.
The automatic engine idle shutdown system lowers fuel costs by significantly reducing idle time, overall operating hours, and fuel consumption.
The 950 also lowers your maintenance costs by up to 35%, compared to previous models, thanks to extended fluid and filter change intervals and a central in-cab display that allows operators to quickly see the health of the machine.
Ready to work!
We've come a long way from the 944 medium wheel loader, but one thing hasn't changed: Cat's commitment to innovation.
So if you're ready to experience high performance, easy serviceability, and low operating costs of the 950, we have models in stock now!