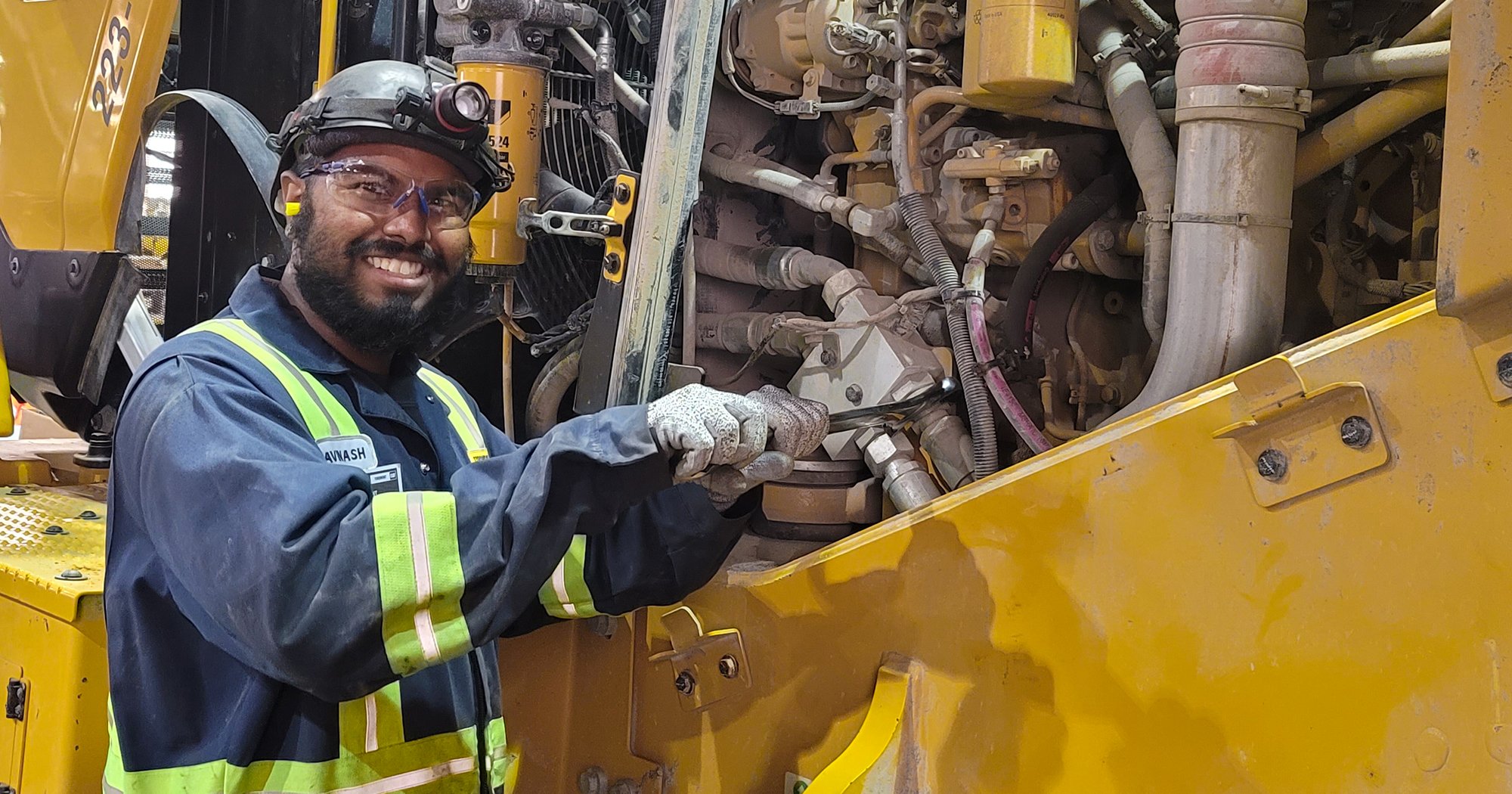 He is at the heart of operations, making sure your equipment performs when you need it. He is the pillar of our service department. He is a Toromont Cat heavy equipment technician, and things wouldn't run smoothly without him.
Here is the first part of our interview with Avinash Narine-Jaikaran, heavy equipment technician in Toronto.
How long have you been a heavy equipment technician?
I've been a technician for about three years. My Toromont apprenticeship program is almost over, and I'm about to take my licence exam (Red Seal). I was supposed to graduate in April, but things got delayed because of COVID. Before that, I completed a 2-year mechanics program (Heavy Duty Equipment) at Centennial College.
How would you describe the apprenticeship program at Toromont Cat?
Apprentices have access to a lot of support, such as on-the-job training, which is specifically designed for apprentices. I also like that the program offers a lot of variety for apprentices and allows them to reach out to different techs and access several references. Another great aspect of the program, which few people know about, is that the training takes place in the shop, the classroom and online. An added benefit for apprentices is the ability to continue to follow training sessions after being licensed. They (Toromont) don't forget about you once you're licensed; they continue to support you and expand your development.
Do you think the job you have now will be very different once you're licensed?
The job won't be that much different once I'm licensed; I think there'll just be less variety. Once you are licensed, you're on your own – no-one will be standing by your side, watching you. Basically, you will be asked to perform certain tasks, which are classified under a specific type or amount of experience. For instance, one task may be assigned to a licensed technician who has the skills to complete the job, while another task may be assigned to a level 1 apprentice or level 2 apprentice, if they have performed that task before while being supervised. As an apprentice technician, you have to build your experience, and you'll eventually perform licensed work that is monitored or validated by a licensed tech. After that, the choice is yours: if you choose to go further, you can take the steps to obtain your licence, which is what I decided to do. By the time you reach the end of the apprenticeship, you understand the work and how to do it.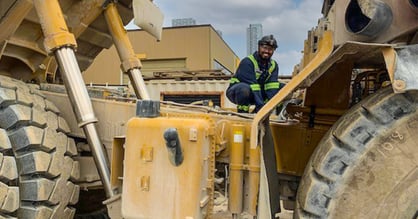 What made you choose to become
a heavy equipment mechanic?
The technician gene runs in my family. My dad is a heavy equipment tech. As for me, I was very passionate about the automotive industry. I loved to work on cars, but I wasn't sure I wanted to do that all day and then come home to fix my own car. I wavered a lot when it came to a career choice. I even ventured into aviation, but found it a bit intimidating. I eventually started to visit my dad at his work, and fell in love with the job and the equipment. I admire the complexity of the tasks and how well technicians can complete them. In my opinion, heavy equipment is the one trade that brings everything together: heavy equipment has hydraulics, which are similar to plumbing equipment, and it also has electrical components, just like in the equipment an electrician works on. And then there's the mechanical aspect, which is so much more than a simple automobile. To me, heavy equipment has it all.
In your opinion, what does it take to become a heavy equipment tech?
To get into this trade, you need to have a clear mindset and be open-minded. You also have to think about safety, which is critical. A lot of the tasks we perform are intimidating, but there's always a safer way to do them. If you love working with your hands and care about safety, then this career might be perfect for you. You should enjoy fixing things, figuring them out, and be curious about how they work.
What is a typical day for you?
Honestly, every day is different. That is what is amazing about this trade. It's very versatile and filled with many different options to choose from. It can be pleasantly unpredictable. One day, you may be removing an engine, and the next, you're performing a hydraulics diagnosis on a machine. The days are usually planned by the supervisors and lead hands, and they will assign work according to your skill set and in-line with your development needs. For example, if you've worked on a couple of engines before, you'll be asked to work on axles, since that will give you the opportunity to develop your skills in that area. So unless you're working on a big project that is projected to last a long time, each day will involve different tasks. Sometimes, you may work on one single machine for an entire month (in the case of an overhaul job, for instance). There's something great about working on a task like that because you know exactly what the day entails and what is required of you. You can just keep working away. But whatever the tasks are, the days are planned very well, which is nice.
So, do you come in the morning and have your supervisor hand you a list of tasks that need to be done that day?
Yes. We have a meeting every morning where we discuss safety (we call these our Safety Talk meetings) and share our opinions and experiences. We then have a morning stretching session. After that, we complete a pre-job safety card, which basically entails any risks or hazards that we may encounter while on the job, reminding us to be mindful during our tasks. We then review the list with our lead hands and obtain any information pertaining to our tasks. This is our chance to get any and all details regarding our work for the day.
In your case, do you perform most of your work in the shop?
Yes. Near the end of your apprenticeship, you may be asked to work on a customer site, but those tasks are usually reserved for more experienced techs. It can be a little intimidating at first because it's a brand-new environment and there are a lot more things to consider. But you eventually become used to it, and some techs discover how much they like it, which allows them to transition to a field service job.
To be continued next week, we'll explore details of the job, its challenges, the technology and more …