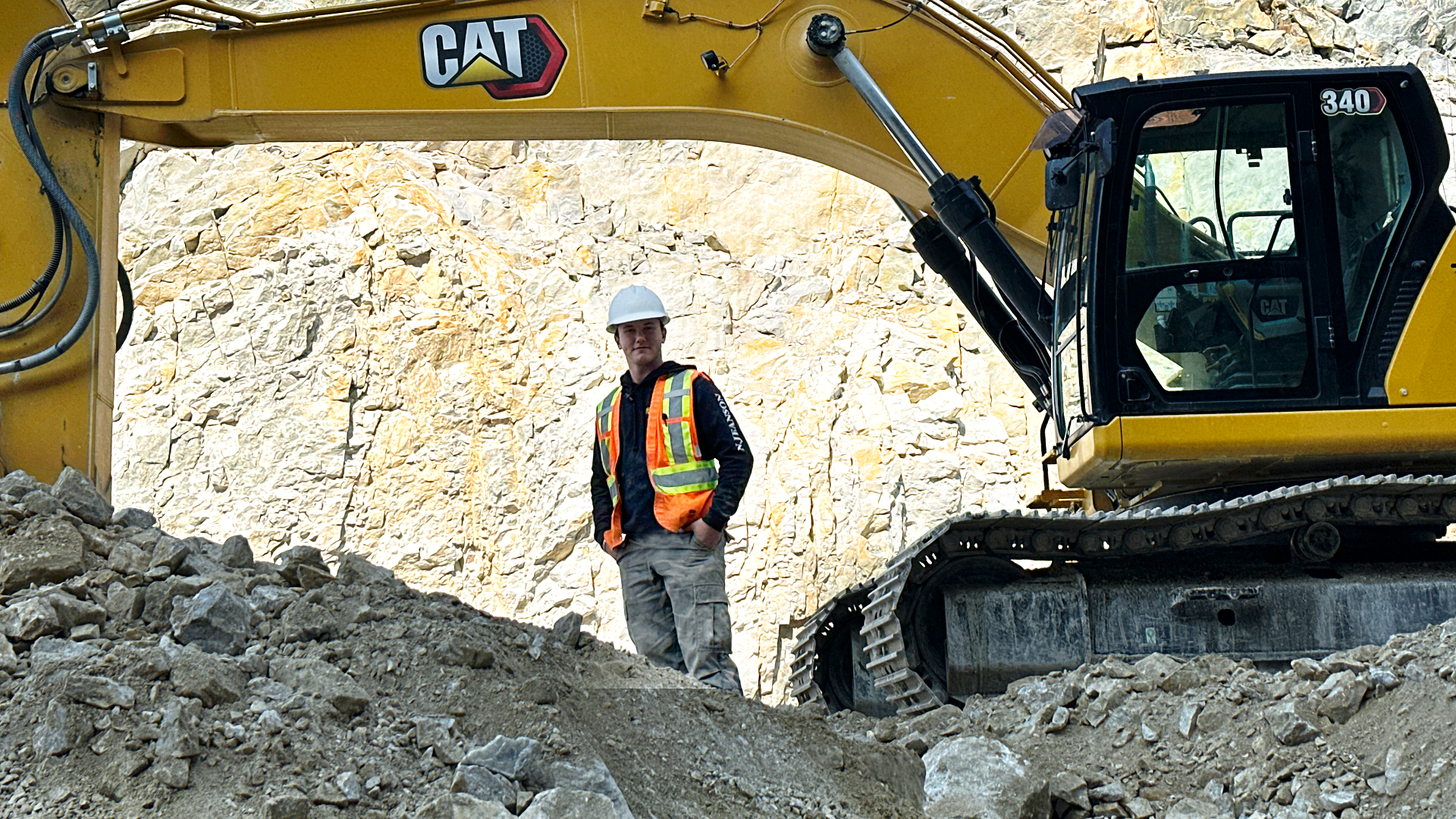 Meet Xavier Jeanson of Excavation N. Jeanson
We recently sat down with Xavier Jeanson, an 18 year old operator who does most of his work on excavators for Excavation N. Jeanson, the business his grandfather started in 1977 with just two trucks. Xavier's father, Michael, took over the business in 2005 and expanded operations to include everything from general excavation, septic systems, foundation drilling, quarrying, and more.
They've worked on some big projects in the last few years, including the Espace 4 Saisons in Oxford, and key roads in Estrie, Quebec, so we wanted to find out why they chose to add the Cat 340 to their fleet, and how they like their new machine.
The New Cat 340
Excavation N Jeanson has more than 15 pieces of equipment in their fleet from trucks to crushers to loaders to excavators. Four years ago, they started purchasing Cat equipment when they needed a new loader.
After trying a few loaders they were most impressed by the Cat 980M. Since then, they purchased three new Cat machines: the Cat 980, 349 and, in the summer of 2023, the new Cat 340.
Power, Speed, and Fuel Efficiency
Xavier and the rest of the Jeanson team use the Cat 340 for crushing, stripping and on many quarries. After getting 700 hours of usage out of the 340, Xavier can already tell how much power, speed, and strength it has.
He also likes how the 340 saves on fuel. "I do about 15 hours with it and still have some fuel left," Xavier says. He also regularly uses the auto engine shutdown and auto idle functions to save even more on fuel costs.
Comfortable to Use and Easy to Maintain
Even at his young age, Xavier has accumulated hundreds of hours in the cab, so he knows operator comfort when he sees it - and feels it.
Xavier says that the 340 is "comfortable, and very spacious, lots of room, even room for the lunchbox." And what about actually using the 340? "The joysticks are very comfortable and all the functions on the joysticks are practical," he notes. You can program them to your liking and your comfort. It's so convenient you can just push the buttons to change things." He adds that he can customize the machine through the monitor, so the machine works just the way he likes it: "I configured everything for me. I set the 2D and payload."
Efficiency-Enhancing On-Board Tech
The new Cat 340 includes Cat 2D grade, Cat Payload and Cat E-Fence. "At first it's a lot of learning, it's not the same as other excavators, but then you get used to it," he says. "It's comfortable and everything's accessible.
He credits Salomon Hamel, one of Toromont's Quebec product specialists, with setting the team up and showing how the tech functions . Xavier uses mainly Cat Payload to load the materials for the crushing and quarries jobs and likes it a lot.
What's next for Xavier and the Excavation N. Jeanson
Xavier is looking forward to building his knowledge as an operator and continuing to learn the family business. Like Xavier, the company is also growing, with an eye on expanding their quarry and crushing divisions in the near future.
Whatever direction Xavier and the Jeanson team takes, the reliable Cat 340 will be by their side.
Interested in the Cat 340?