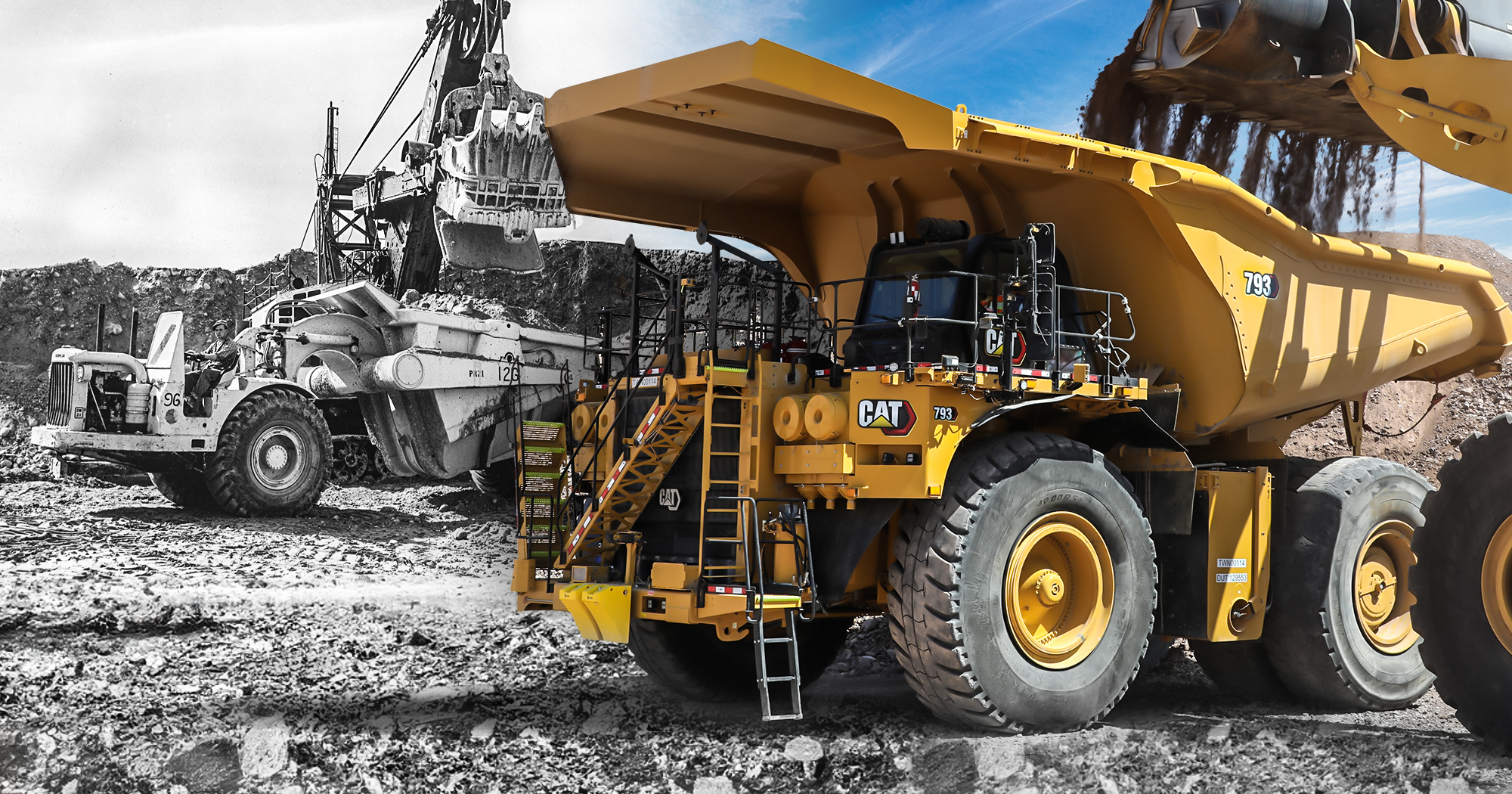 Cat Mining: Always Innovating
Cat fans and historians already know the company's humble roots as the innovative, disruptive brainchild of Benjamin Holt and C.L. Best (and if you don't you can learn all about it here!). But did you know that Cat has helped grow mining in Canada and beyond?
As we celebrate (almost) 100 years of Cat, let's take a look at the company's history in the mining industry, and how it continues to be at the forefront of innovation.
1980s and early 90s
The 80s weren't just about hair bands, cassette tapes, and The Empire Strikes Back. The mining industry in America and beyond was still reeling from the effects of the Recession, which left businesses hungry for innovative solutions that would maximize production while keeping costs low.
Cat delivered. During the 80s and early 90s, Cat focused on lowering cost per ton by producing a line of reliable, high-performing mechanical-drive trucks, innovative dozers with an elevated sprocket design, and a line of reliable, industry standard mining support equipment.
Late 90s to the early 2000s
As the after effects of the Recession faded, miners shifted their focus to a 'bigger-is-better' approach to the industry. The result: demand for larger equipment to facilitate surface mining. Again, Cat was there, building larger trucks and loaders for hard rock operations, while meeting the needs of surface miners by providing bigger equipment.
Through it all, Cat maintained the highest standards of safety and reliability that has always been the brand's trademark.
Mid-2000s and beyond
If the early 2000s focused on getting big, the mid-2000s were all about more: more units, larger fleets, more mines, and, of course, more safety. To meet the demand for more, Cat expanded their product line, continued investment in making mining as safe as possible, expanding factory capacity.
By 2010, Cat was an industry-leader in technological and innovation, leading the way on automation to increase productivity, control costs, and help miners better manage their fleets.
A special shout-out to Milwaukee
No history of Cat and its place in mining history would be complete without special acknowledgment to the city of Milwaukee. In April 1893, Bucyrus Steam Shovel and Dredge Company opened a new manufacturing facility in South Milwaukee to support the manufacturing of core large machinery, including rope shovels and draglines.
Their dredges played a big part in the California Gold Rush, and their shovels were a part of the vast Mesabi Iron Ranges and, later, New York State's barge canal enlargement project.
Today, the South Milwaukee facility is Cat's primary manufacturing facility for draglines and electric rope shovels. In the past 30 years, around 237 machines produced at the facility have moved more than 105 billion tonnes (116 billion tons) of material.
Toromont Cat: One of the world's most trusted Cat mining dealers
With a wide range of products, technology, and services available to mining companies, Toromont Cat is proud of its reputation as one of the most important Cat mining equipment dealers in the world. We have over 50 years' experience in the industry, our veteran team of mining experts and engineers help customers mine more safely while improving productivity, lowering cost of ownership, and reducing carbon footprints.
Put simply, we know mining, and we're always ready to pair industry-leading expertise with our impressive range of Cat mining equipment to make customers' mining operations better.
Want to know more on how we make mining better with our customers?