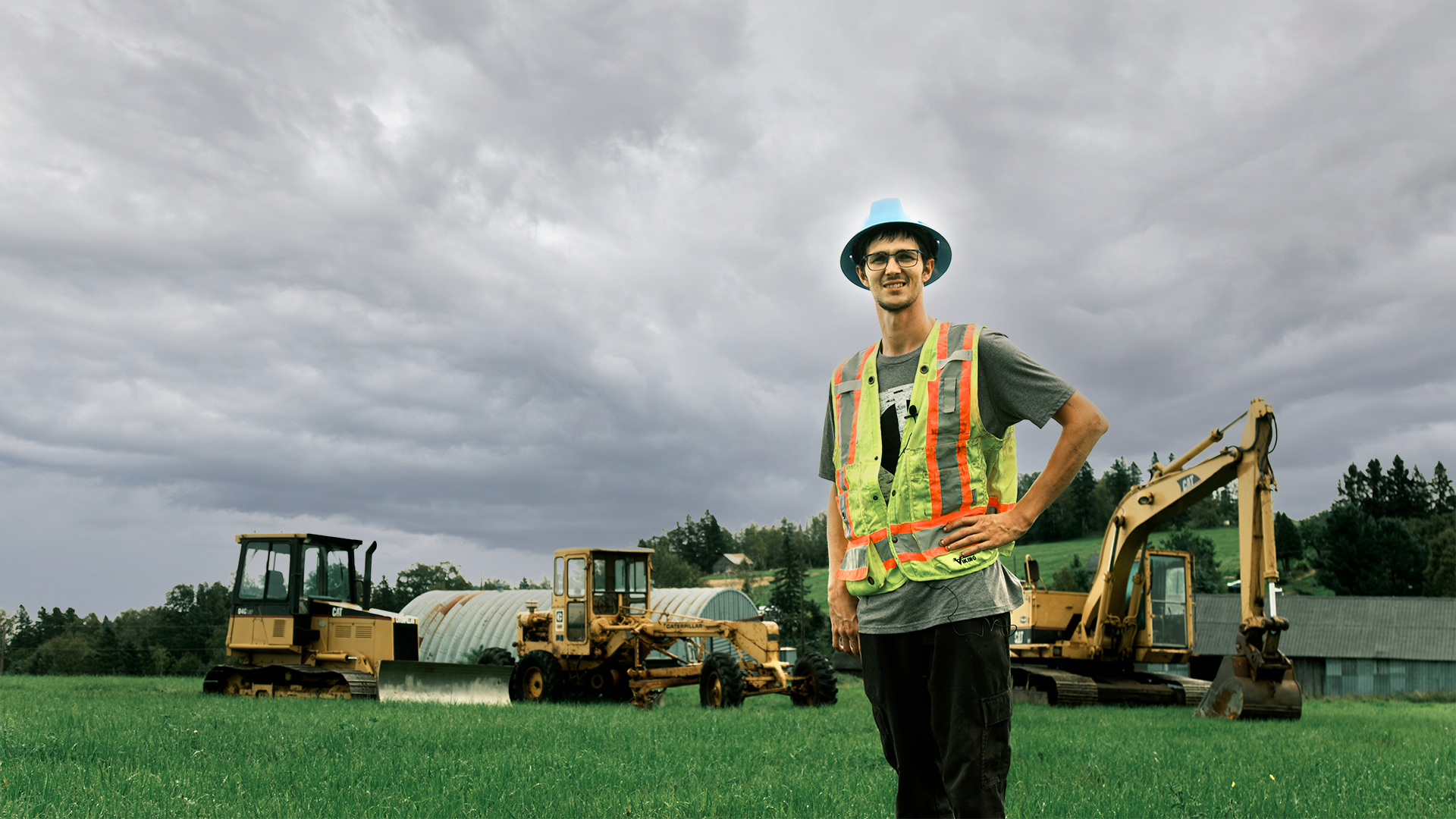 We recently traveled to Québec's Charlevoix region to meet Samuel Girard — a heavy machinery operator for Daniel Lachance Deneigement. He's passionate about heavy equipment and the Caterpillar brand, so we were eager to hear his story.
For him, it started early. As a boy, he sat in his father's lap and operated a 20-ton excavator for the first time. He was hooked.
After graduating from high school, Samuel took a two-year mechanics course. He learned a lot at his first job, working in a garage and learning how to repair, before learning to operate.
"That company only worked with Cat," he says. "Whether it was in his truck engines or his loaders, excavators — it was Cat, Cat, all the time."
Today, Samuel owns three Cat machines himself: a 1987 Cat 225 LC excavator (20,000 hours), a 1994 D4C LGP dozer (10,000 hours, with an original undercarriage), and a 1973 112F motor grader (7,300 hours, and all-original).
"When I need parts — even for my 1973 grader — I go to Toromont and order them. Two days later, the parts are here," he explains. "Everything is still available. I think that's quite powerful."We also informed Samuel that now he can shop on Parts.cat.com and order 24/7.
Samuel loves used Cat equipment and the simple mechanics as other reasons for his brand loyalty. "I like to fix things myself, stay independent. I bought them because they're easy mechanics," he says.
Those three machines are used on Samuel's land. At his day job, he uses modern Caterpillar machines with the latest technology and upgrades.
"I can see that Caterpillar emphasizes the comfort of the operator. I like the joysticks, the multifunction monitor, the cab, and the space. Even in a small excavator, you have room for your lunch box — room for everything in there," he says. "I think it makes a difference in my daily work. When you spend ten hours sitting inside a cab, it is great to have everything you need with you."
When offering advice to other people who might be thinking about buying new or used equipment, Samuel speaks from experience.
"I suggest they go to Toromont. They can look at their used equipment site. And I would go for Cat, for sure. I think the reliability and reputation of the brand are why I would choose it, he says. "Even if someone likes another brand, I think that to try it is to like it."
Looking for new or used equipment?