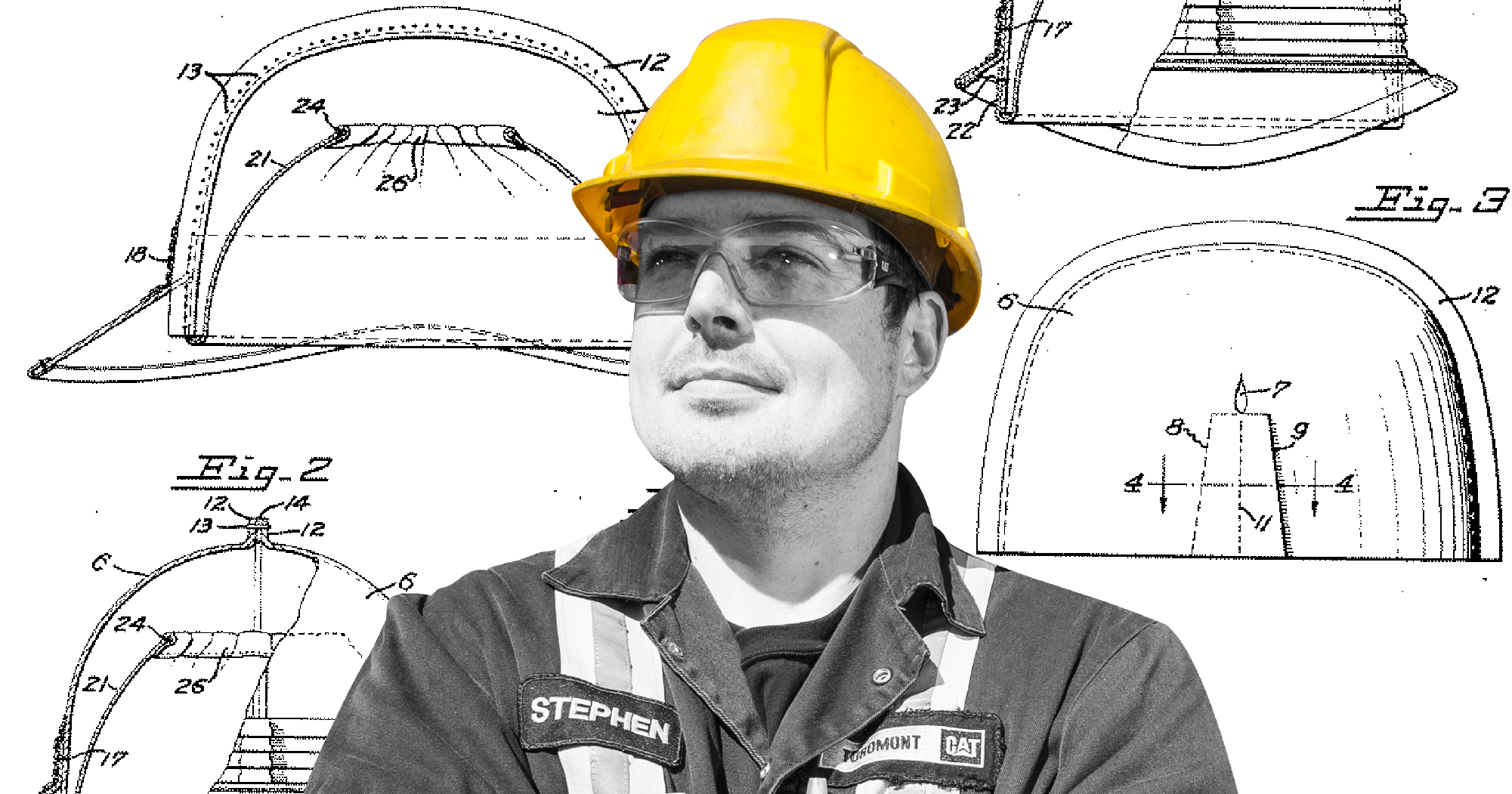 Shipbuilders covered their hats in tar and let them dry out in the sun to protect their heads from the constant threat of objects falling from ships.
A war vet and owner of a mining equipment firm, Edward Dickinson Bullard created the first 'hard boiled hat' in 1919. Made from steamed canvas, glue, and black paint, the hat was later replaced with the MSA Skullguard – also designed by Bullard for workers building the Golden Gate Bridge in San Francisco, in the 1930s.
The head engineer of the Golden Gate Bridge project, Joseph Strauss, asked Bullard to make protective headwear specifically aimed at protecting sandblasters. Bullard created a helmet with face protection, a window that didn't obscure vision, plus a ventilation system connected with a hose to an air compressor.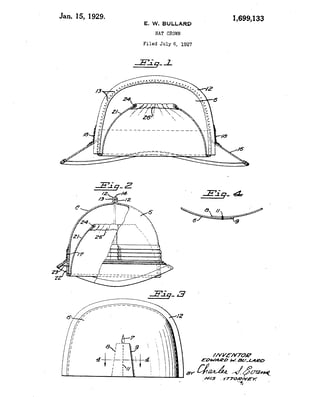 Bullard's patented design from 1929
(Image Courtesy of Smithsonian Magazine)
Bullard's hard hats were the best but prohibitively expensive for wide-scale adoption.
In 1938, lighter weight aluminum became popular (except, of course, for electrical operations – safety first!). In the 1940s, fiberglass hard hats hit the market, before injection-molded thermoplastic helmets replaced them to become the dominant hard hat in the 1960s.
1961 saw the introduction of the Topgard Helmet and its polycarbonate design; a year later, the V-Gard Helmet hit the market - it's still the most used hard hat in the United States.
Modern Design and Colours
As work and workplace safety has evolved, so has the design of hard hats.
These days hard hats are either made of high-density polyethylene (HDPE) or advanced engineering resins like Ultem. Hard hats now typically feature a rolled edge that channels rain water on the front of the bill, instead of down the wearer's neck. Other functional design additions include chin straps, ear protectors, and safety visors.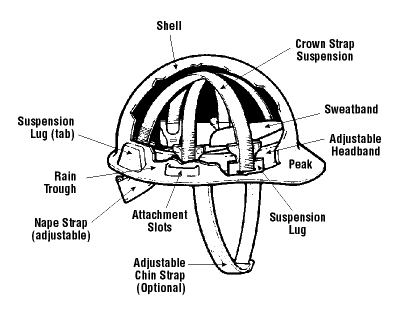 Modern Hard Hat Design
(Image courtesy of The Canadian Centre for Occupational Health and Safety)
Hard hats also vary in colour, signifying different roles depending who is wearing them. Though not uniform across companies, in general hard hats follow a particular colour identification scheme:
White: Managers, foremen, engineers, and supervisors.
Green: Safety inspectors, new or probationary workers.
Yellow: General labourers and earth-moving operators.
Brown: Workers in high-heat applications like welders.
The Importance of Protective Headwear
Out of every 100,000 construction workers in Canada, 26 will suffer a brain injury. Even worse: a study found that in 2012, only 16% of workers who sustained head injuries were wearing hard hats – even when required.
Disturbing statistics like that are why Toromont Cat makes health and safety our number one priority. We have a robust personal protective equipment program that surpasses the highest industry standards for safety. Members of the Toromont Cat team are rigorously trained in workplace safety and wear the most advanced protective headwear on the market.
Are you a fan of hard hats? Send in pictures of your favourite!
Check out this podcast from Caterpillar on workplace safety: Caterpillar | PODCAST: From the Front Office to the Front Line: Safety Is No Accident