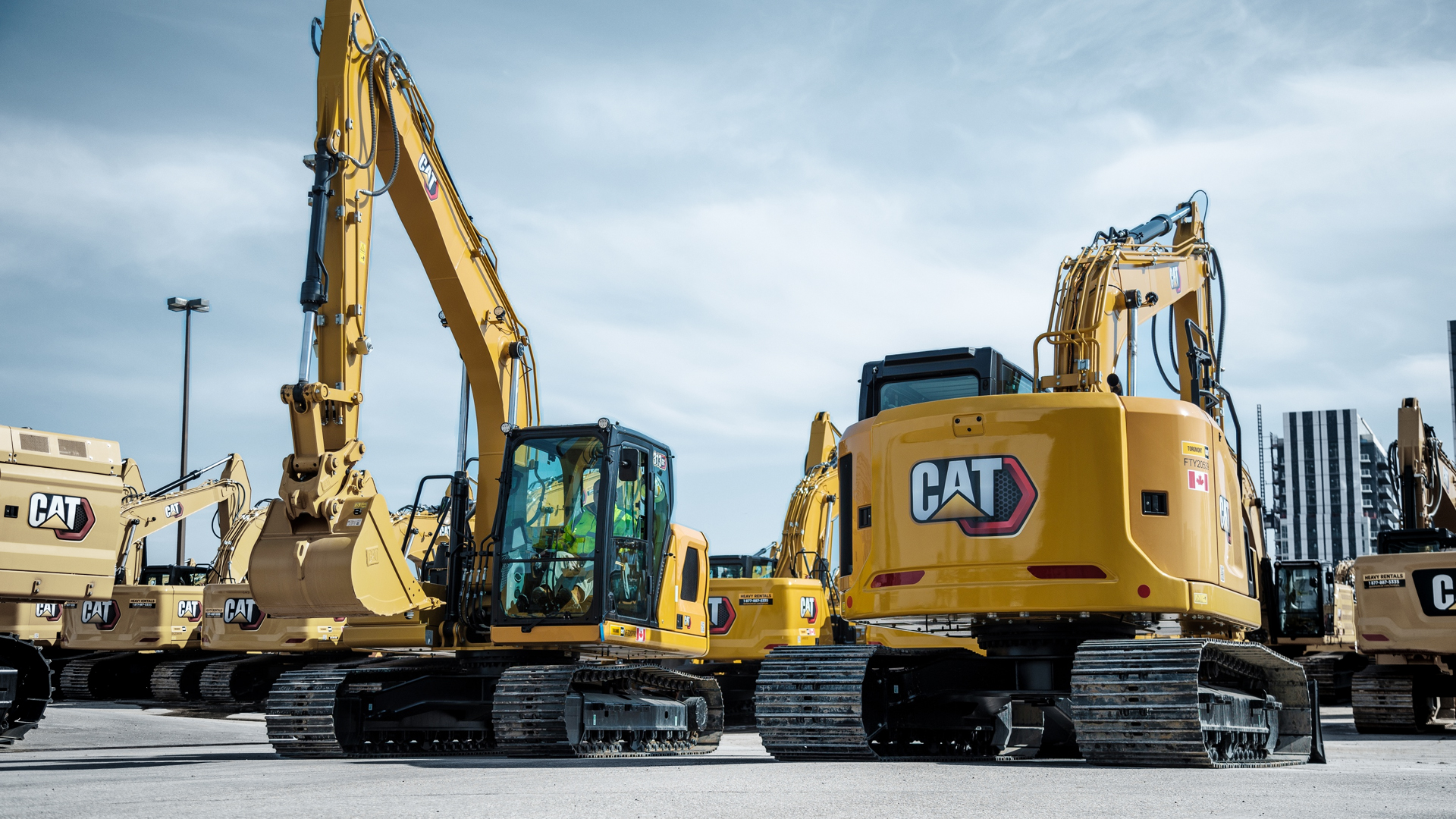 High performance, increased efficiency and lower operating costs.
Choose from two 13-ton excavators in stock to meet your needs: the Cat 313 or the Cat 313GC. What do they have in common and what makes them different? Let's take a look.Two new 13-ton Next Generation excavator models Cat® 313 and 313 GC are coming to the market. Both models offer improved performance and reduced operating cost. What does that mean exactly? Let's take a look at the two newcomers.
Features at a glance
The 313 model features increased power and a range of standard Cat technologies designed to enhance operator efficiency by up to 45%.
The 313 GC, offers reliable Cat performance and reduced maintenance costs of up to 25%.

They share a lot of features
Engine and advanced hydraulics:
A Cat C 3.6 engine that:
Delivers fuel savings up to 10% compared to older models.

Features 3 power modes in the Cat 313 (Power, Smart and ECO) and 2 for the 313GC (Power and Smart)

Delivers fuel savings up to 10% compared to older models.
A more responsive hydraulic system combining power and efficiency to ensure accurate digging.
A 10% increase in swing torque increasing efficiency during sloping work and on-site travel.
Fuel-saving features like Auto-Idle, Auto-Shutdown, and Auto-Warm-Up
The Cat 313GC has no DEF which reduces operating costs.
Making maintenance easier and cheaper
Thanks to improvements like the new more efficient hydraulic oil filters lasting 50% longer (3,000 hours) and all daily maintenance points accessible from ground level, maintenance of the 313 and 313 GC have been simplified resulting in up to a 25% reduction on maintenance costs, compared to the F-series.
Work Comfortably
The design and configuration of the cabs have been re-thought to enhance comfort and ergonomy.
A larger cabin with bigger windows for increased visibility.

Standard rearview and right-side-view cameras offer a great visibility

The new LCD touchscreen controls are easier to use.

Keyless push-button engine start

Customizable joysticks which can be programmed through the monitor
The 313 stands out with high performance Technology
Watch the 313 in action!
More efficiency and accuracy with integrated technologies:
Standard Cat Payload provides on-the-go weighing in real time, so operators can provide accurate load targets.
Standard Cat Grade With 2D provides real-time guidance on depth, slope and horizontal distance to quickly and accurately reach desired grades.
Standard Cat Lift Assist calculates the load you are lifting and the rated load of the excavator to keep you safe by avoiding tipping risks.
Cat Link™ Technology connects the site to the office via VisionLink® to report a wide range of data such as fuel consumption, payload summaries and error codes. It is also now possible to perform a diagnostic remotely.
In short…
Whether it is the 313 or the 313 GC, the next generation of small excavators features some very interesting improvements that will for sure simplify the operator's life and allow them to be more efficient. Both machines are reliable, versatile, and highly capable additions to any fleet!
Want to give it a try?